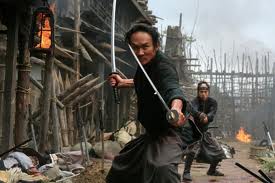 I think it's worth mentioning up front that this film is violent. Extremely, spectacularly violent. Heads chopped off, graphic atrocities, guts spilled out. And blood. So much blood – vast spraying, soaking, bright red and viscous oceans of blood. Miike leads with blood, inducing the audience to squirm from the initial frames and never relenting.
If you're familiar with Takeshi Miike ("Audition") you know he's an expert at making the viewer feel uncomfortable. Astonishingly proficient – 84 films as a director by his 52nd birthday – he's also capable of a wide range of styles on a wide variety of subjects. His next effort, in fact, is Ninja Kids – an adaptation of Soubee Amako's children's manga series "Rantaro", about first-grade ninjas. As astonishing as that will seem after watching 13 Assassins, Miike is surely capable of it.
Most will call this a throwback to the samurai movies of the '50 – in fact it's a remake of a 1963 film – and I suppose it is. We get a classic hopeless quest for justice, this time drawn from the pages of Japanese history. In the fading days of the Shogunate Lord Naritsugu Matsudaira (Goro Inagaki), younger half-brother of the Shogun, is wreaking havoc throughout Japan with his cruelty and lust for blood. The Shogun's justice minister, Doi, recognizes that things will only get worse when the young Lord joins the Shogun's inner circle and gains political power. Doi hires aging Samurai Shinzaemon Shimada (Koji Yakusho) to secretly assassinate him.
Shinzaemon, a patient and clever man, puts together a group of 13 men to carry out the impossible task. His nephew, a gambling womanizer, a spectacularly skilled ronin and his teenaged student, a wry spear-wielder, and a cast of other misfits and quiet men. The job seems impossible, but for a Samurai a chance to die in glory – especially in the current (but doomed) "Era of Peace" – is something not to be rejected.
That plot sounds pretty familiar, of course – and this one is actually grounded in truth – but that's not the point. For pure, adrenaline-driven, heart-pounding entertainment this film is hard to beat. While grandiose in its depiction of violence Miike's movie nevertheless doesn't glorify it – in fact, it seems that virtually every death (and there are lots and lots of them) happens on screen. Usually in a graphic manner. It's desensitizing, I admit, but it also takes great pains to show the consequences of war and the price a Samurai must pay for his code of honor.
The narrative of the film is a battle of wits between Shinzaemon and Naritsugu's chief Samurai, Hanbei – a former colleague at school and the dojo – leading up to the final conflict in a small village in the Kiso Valley. It's that last sequence that drives the film – an astonishing 45-minute bloodbath that leaves the audience as exhausted as the few surviving participants. It's a combat sequence on a par with Spielberg's opening scenes in "Saving Private Ryan" – not as lavishly expensive and effects-loaded, but beautifully choreographed and dazzling in both its pacing and horror. It exerts a certain additional hold on me as its set in the small villages of Kiso that I hiked and stayed in only weeks ago – crucial checkpoints on the Nakasendo Road with an important place in Japanese history, and now frozen in time as a kind of living monument to that history.
I won't say this film is one that will inspire and uplift you, nor that it's an easy one to watch. It's grisly, ugly and despairing – but powerful and beautiful in a strange way. A piece of classic Japanese film-making is a gritty modern style, taken from the pages of a dying, bloody era, this is a film that will stay with you for a long time.