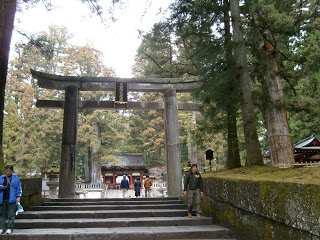 Toshogu Shrine, Nikko

Tokyo wasn't about to let me check out without a last reminder of what it's going through, it seems. 10 minutes after I arrived at Narita I was exchanging money when I felt a little something. The clerk kept counting so I shrugged it off, but a few seconds later there was no mistaking what was happening. We stared at each other and looked around us, obviously both unsure what to do except just wait it out and hope. After about 30 seconds the shaking stopped and she gave me a look which bespoke all that the Japanese are dealing with at the moment – wry amusement, despair, alarm all rolled into one expression. Then she finished counting out my dollars and wished me well.
So there was a quake a few hours after I arrived in Tokyo, and another a few hours before I left. The former was a 7.1 and, though I was in the air soon and didn't get to follow the news closely, I believe the second was about the same and actually centered closer to Tokyo. I felt one in the morning, too, though that was a little tadger – a mere 5.2. I was a little worried that they'd stop the flights to check the runways, etc, but no – we left on time and arrived early, and I can certainly say In I found the four days I spend in Tokyo a profound and affecting time.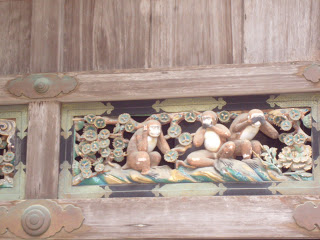 The Original Three Wise Monkeys, Ieyasu's Mausoleum
I don't believe for a minute I made a mistake in coming. Notwithstanding the aftershocks – which were admittedly more excitement than I prefer – I think any informed and reasonable person would say Tokyo was safe. More importantly, there was water and food on the shelves, no blackouts (not till summer probably) and the people of that amazing and maddening city don't have the luxury to let fear-mongering yellow journalism and bad information put their lives on hold. There was a big sign from the Japanese government on the approach to customs in Narita, thanking visitors for coming and supporting Japan in their time of need. It's quite true – the only obvious sign something was different was the comparative lack of foreign faces. Tokyo has a huge ex-pat population and Kyoto – 600 miles from danger – usually a huge tourist one, especially during sakura season. Why were there no foreign tourists to speak of in Kansai, which is far removed from any radiation threat and has plenty of power? Why did the host at the ryokan ask me if I wasn't scared to come there? I can certainly understand why someone might have chosen not to come – if you're queasy about earthquakes especially, though they're so common in Japan that those folks should probably avoid it anyway. I just wish that people were making these decisions based in the facts, not the sensationalistic and inaccurate misinformation that's so viral at the moment.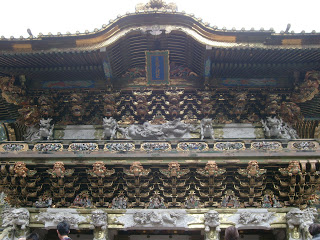 For all that, I had a nice last day. As mentioned I spent Sunday in Nikko, about 100 miles NW of Tokyo. It's the home of the most ornate and opulent shrines in the country, monuments to former Tokugawa shoguns Ieyasu and his grandson, Iemetsu. Nikko is legendary for being swamped with tourists on the weekends, but on this day it was quiet and peaceful. Perversely, as with my time in Kansai, it was beneficial to me as a traveler that so many folks had stayed home. Monday I spent in Tokyo, having about six hourd before needing to head to Narita. I quietly revisited some of my favorite spots, hit a ramen joint I've been wanting to try (Ichiren, Kyuushu ramen – tonkotsu) and strolled through the quiet old neighborhood of Yanaka. It's one of the few to survive the WW II bombings and the great Kanto quake of 1923, and thus one of the most representative chunks of old Edo still around. It was the temple district, NE of downtown, and the remnants of those once great temples are still there.
I certainly don't know what's going to happen in the future, but I have to trust that I'll be back to Japan again. Maybe the dream of living there will come true, maybe not, but I can't imagine not visiting again. Every time I'm in Tokyo I feel more comfortable, more at home in it's indecipherable streets and countless rail lines. Japan has a long road to travel in coming back from all that's happened. Earthquakes daily, nuclear uncertainty, close to 30K dead from the tsunami with entire towns wiped off the map. Tokyo faces a hot, miserable summer without air conditioning unless the power shortfall can be resolved before then. Politics are in disarray, as usual, and the country might face another recession as it faces staggering expenditures and loss of productivity. But they'll press on – that's the national character. It's what the Japanese do.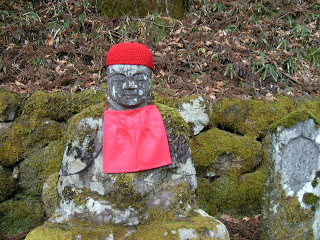 Jizo Statue, Kanmanfaguchi
Edoites aren't feeling sorry for themselves, so they don't need us feeling sorry for them. They need us to do business there and visit there before it gets too hot or in the fall, when the colors are stupendous. If you feel sorry for what's happened, good – contribute some money to a reputable relief organization. But the most important thing we can do is make sure that we know the truth of what's happening there, and not believe what we see on CNN or Fox. Tokyo is a fantastic place – safe, clean, buzzing with energy even while dealing with all they currently are. Just as Americans didn't want the world to avoid NYC after 9/11, we need to keep Tokyo on our agendas after 3/11. I'll never forget seeing all those folks in Inokashira Park on Friday morning after the 7.1 aftershock, holding hanami parties in defiance of their governor. Theyt may be tired and their hearts may be heavy about what's happened, but they aren't defeated.
In a funny way, I think this was the perfect time for me to visit. I got to see Tokyo the way few people get to see a major city. It was an experience I'll never forget and even though I already loved the place, I love it even more after seeing their steel and good humor when the rest of the world is being told they live in a war zone with no food or water and a mushroom cloud hanging over them. The cherry blossom season is truly remarkable in Japan – it's easy to see why it holds such importance to the people. The weather was fantastic, the sakura were sensational, and the people were, as always, uniquely themselves. What a country.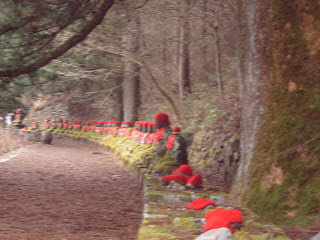 Row of Jizu, Kanmangafuchi Gorge, Nikko