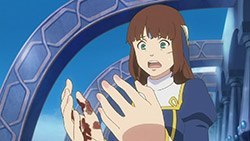 Yamakan set himself up for all this, I'm afraid. It's never a good idea to put the kind of pressure on himself that he did, and as a result I think a lot of people came into this series predisposed to hate it. And it's good – damn good – even if it does suffer from some significant flaws in execution.
What's great about Fractale is that it's a really smart story about really big, interesting ideas. That's not a shock, given that it's creator is Hiroki Azuma. There's a lot of commentary on larger issues here – freedom vs. security, identity, determinism… I really admired the fact that we were given a tale of a war between two sides who were both wrong – the anime had the courage not to gloss over that fact.
More so than it's NoitaminA stablemate Hourou Musuko, Fractale probably suffered from pacing issues. In the end the ideas were too big – they couldn't adequately be explored in an 11-episode format. As a result a lot of the character development was slow in coming (though this improved markedly in the end) and we had an ending that was exremely frantic and a little too neatly tied in a bow. This is the curse of NoitaminA now, I suppose – we saw it with Kuragehime as well. There's only so much you can do in 11 episodes – though as this was an orginal series they might have done better cutting out some of the extraneous plot and focusing on the three main characters and the central moral dilemma of the story.
The show looked good, though the animation was a tad inconsistent. Yamakan seems to have made a deliberate decsion to go with very cute character designs and a "Ghibli look" to the art to make a contrast with the sometimes shocking brutality of the content. Indeed, I liked the fact that the series was able to lull me into complacency and then produce someting deeply unsettling.
Though Clain was the main character and even Nessa probably got more screen time, in the end this was a show more about Phryne than anyone else. Her tragedy was at the core of everything – the self-loathing caused by events beyond her control. It was fitting that she should be revealed to actually be that the center of it all, though the explanation in the finale had a bit of mumbo-jumbo to it. All of the adults in this series are deceitful and manipulative to varying degrees, with dubious moral character. There were no good guys here, really – just the two innocents Clain and Nessa, and the soiled innocent Phryne.
I know the finale will probably keep this show from being classed as a real success – if it would have anyway – but that's too bad. It's a solid, thoughtful and ambitious work that deserves respect, and I can forgive it it's flaws because it at least tried to deliver something profound and sometimes succeeded. Alas, the director made himself the story – and that's going to guide the lasting analysis of Fractale, I fear.