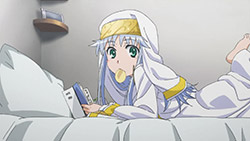 This episode was like a love letter to Index fans like me who were bored and disgruntled with where the series was going. Not only did we get an Index-centric plot, we also got nunservice (both Index and Orsola) and some actual combat magic from Index. Out favorite loli nun is relevant again! We even got a look at her passport photo.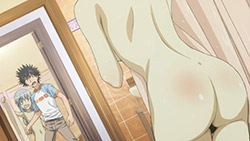 Nunservice!
Of course, the first minute must have been torture for the anti-Touma crowd – a whole soliloquy of his "Such misfortune!" speech. But Touma's litany of bad luck appears to have turned when he wins a 7-day, five night vacation to Northern Italy – and we get a reminder of his memory issues when he doesn't even realize he possesses a passport. He and Index jet off to Chioggia, a small port just South of Venice. If you've ever been to the area surrounding Venice you know it's a hauntingly beautiful and mysterious old area, a perfect setting for a story of magic and religious mysticism. Soon after arrival, Index disappears and Touma runs into our old "Book of Law" friend Sister Orseola, living in Chioggia under the protection of the Amakusa and about to leave the city. Orseola has already found Index and brought her back to the church residence for gelato and pasta frutti de mare. The humor and slice of life is excellent here, as Touma manages to barge in on both Orsola and Index in the shower. But this idyll ends soon enough, as it turns out someone is targeting Orseola's life – the Roman Catholics under our other old friend, Sister Agnese of the mini-habit. Index stops the initial sniper hit and Touma actually falcon punches a man for a change, but chaos ensues, and Touma and Orseola find themselves on a gorgeously animated glass (or ice) magical clipper ship, breaking through old bridges and canals and into the Adriatic, leaving Index behind.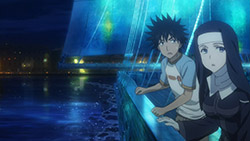 What a recovery. This episode was a reminder of why I enjoy this series in the first place – excellent comedy, good mystical atmosphere, lots of Touma/Index interaction and even some good fanservice. I like TAMnI best when it keeps the formula simple – too many characters and plots that are too convoluted detract from the true charms of the material. This show always seems to whipsaw between good arcs and mediocre ones, so I guess we were due – but I'm going to enjoy it while it lasts.