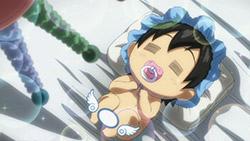 This was, in some ways, the most balanced episode of SnO yet. The plot and character development was actually integrated with the comedy for a change, instead of being totally separate entities.
The comedy this time surrounds the "Tomoki Peeping Tom System" – and ingenious mix if pipes and mirrors that allow Tomoki to see up skirts and into changing rooms all over town. I feel for Tomo – sometimes he really does just want to be left alone, but he can't buy a moment's solace even in the john or his closet. Even a well-meaning Ikaros just makes things worse for him. But with the TPTS, he's just asking for it really.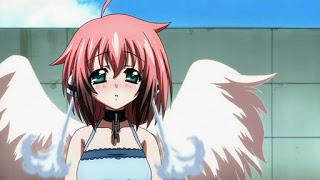 Throughout all this, each of the main girls makes a statement about where they are in terms of Tomo's feelings and their own. Sohara cleverly notices that Tomoki will only do ecchi things to Nymph and Astraea, but not Ikaros – and she doesn't like what that means one bit, despite his protestations. Sohara is making no secret of her intentions, but then neither is Ikaros. First she moons over a bridal magazine, asking Sohara to explain what proposals mean. When she almost kisses Tomoki through the miracle of the TPTS, it causes her reactor to (adorably) overheat. And Nymph flat-out tells Tomoki that she would have helped him with the TPTS if only he'd let her call him "Master". Tomoki is pretty dense to both Sohara and Nymph's feelings, but he's clearly close to realizing that things with Ikaros are serious.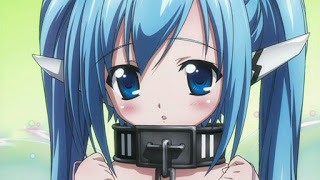 The ending is a bit ominous. First, Ikaros moves to purge all her memories of Tomoki, her self-repair mode recognizing him as the source of her overheating. Then Chaos reappears after the ED, having powered-up and outgrown her loli form. She's got a thing or two to teach her sisters about love, and it won't be pretty. It won't be pretty for Nymph or Sohara when to comes to Tomo, either – it's pretty clear at this point that he doesn't see either of them as romantic material. But just how far will things progress with Ikaros this season? We have a movie coming, and a third season wouldn't remotely surprise – so I'm guessing we won't see any real development this season.