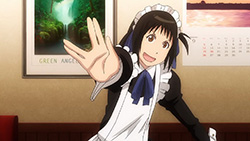 Episode 2 could easily have been titled "Arashiyama and the Terrible, Horrible, No Good, Very Bad Day".
It strikes me that I've very rarely seen a series for which success is going to depend more on how the viewer likes a seiyuu. Chiaki Omigawa is an actress that tends to inspire very strong reactions, positive or negative (I'm on the "pro" side, very much so) to begin with. Her voice is distinctive and she tends to play a version of herself, to some extent, in every role. Add to that the fact the Soredomo is very much centered around Arashiyama's antics – she's a force of nature, this one – and Omigawa's presence suffuses every scene, every gag. If you're not a fan, I can't see this going too far with you – this is definitely a star vehicle for her.
Episode itself was pretty solid, about on a par with the first for laughs. We learn a few new things this week – first of which is that Arashiyama is hot for teacher, math teacher to be exact (he doesn't show up except in her fantasies this time). Also, she has a cute younger brother and sister (sis is a dead-ringer for Kyoko from "Dennou Coil") who are predictably bratty, and that she has been visiting Seaside and getting free curry from Obaa-san for every crying fit she's had since she was a toddler.. But mostly it's three sketches about her doing zany things – she's truly a bit of a psychotic, this girl. She's full of weird ideas for promoting the cafe, she has no common sense whatsoever, she'll say anything to anybody – including the town cop – and she's not the brightest star in the sky. But I find her adorable and her antics generally wildly entertaining – she's a bit on the nasty side with some of the stuff she says, but I don't think it's anything more than the fact that she's a live wire with no filter whatsoever.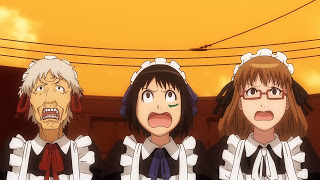 This still has a bit of a Natsu no Arashi feel for me. The superficial similarities are undeniable – the setting is a dysfunctional cafe and the character designs are somewhat reminiscent. Shinbo seems to be parceling out his visual tics at about the same rate, too. While the humor in both series is definitely from the zany end of the spectrum, NnA was definitely a little darker and more sentimental, at least so far. Soredomo doesn't seem to be the sort of series that will tug the heartstrings and though the pieces are in place for a love triangle, there's little indication that romance will be a major part of the story. But Omigawa is born for this role, and so far her performance is a tour de force in my book. I'm enjoying what I'm seeing and getting a few big laughs out of each episode, and loving the OP and ED. So far, it's a keeper.