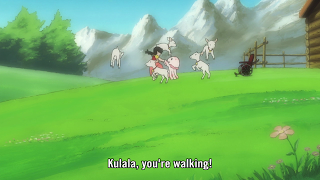 Noitamina has consistently been providing the best anime experiences on the schedule for most of the year, so it's no surprise that the brilliant Shiki has been joined by what appears to be yet another gem – Kuragehime. No one should be surprised, given that the director or Takahiro Omori. By helming the likes of Baccano!, Gakuen Alice, and Natsume Yuujinchou he's proved both his brilliance as a director and his incredible versatility.
This one had me at "Hello" – the movie-themed OP was an instant classic. There are echoes of "Mahoraba" in the premise – a bunch of odd characters at a boarding house – but this is superficial. These residents are not only all women, but all otaku of various types – and all nerdy, incredibly insecure, fearful of both men and "chic" people of any stripe. As they're all chaste (and not by choice) they've dubbed themselves "Amars" (Buddhist nuns). Our lead is Tsukimi, an 18 yea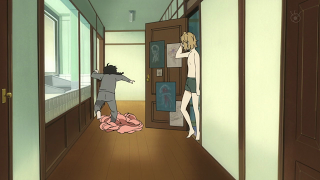 r-old with freckles and glasses living in Tokyo as an illustrator. Her otaku passion is jellyfish, which leads her to an encounter with a beautiful "princess" at an aquarium shop. "She" rescues a jellyfish for Tsukimi, and ends up back at her apartment sleeping on the floor. It's only by morning's light that Tsukimi realizes the princess is not at all what she seems.
We're had quite a few shows about otaku, and even have a couple this season alone – but Kuragehime seems a breed apart. There's no romanticizing of the lives of these women so far – their passions for their personal obsessions are genuine, but one gets the idea that none of them would choose this lifestyle if given other options. They're all unique and well-drawn oddballs (a genuine Mahoraba similarity) and that seems a theme here, individuality and living a life of one's choosing. The princess is a big part of all this, too – he has his reasons for what he's doing that will become apparent as we progress in the story. Best of all is Tsukimi, who isn't portrayed as a glamorous beauty in disguise but a genuinely plain girl whose beauty is her soul, not her body. Her inner monologues are the kind of Greek chorus that drives the narrative, and in that task they perform beautifully.
I had a smile on my face beginning to end here, from the into to the ED. Noitamina and Omori-san look to have struck gold again.