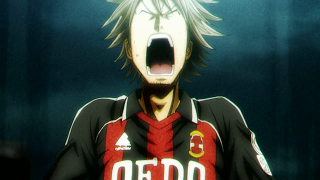 ETU..wins??? It would have seemed implausible a few episodes ago, but they did a pretty good job of selling that ETU really could come back and win 3-2 against mighty Osaka.
The tying goal did indeed come as a result of an exhausted Hiraga's foul on Tsubaki. But it was Sugie of all people who scored it on a header, off a great free kick by Gino. I love it when defenders score – doesn't happen too often, but a tall guy like Sugie is always a threat on set pieces. Turns out Dulfer – showing his real grit as a coach – was already planning to pull Hiraga and Hauer even before ETU tied the game, a real concession that the win was more important than his ego. But he was too late – it was tied before his subs could enter,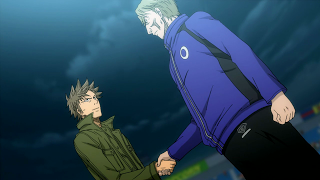 and Tatsumi subbed out Sugie and Akasaki at the very same time. Osaka fell into all-out defense mode and ETU all-out attack, proving out Tatsumi's ultimate strategy. The winning goal came as the payoff to all Sera's character development and it was he, not Natsuki, that tallied the winner – on a great diving header in extra time that probably would have been disallowed as a dangerous play in the real world. Sera finally achieves his destiny as the ultimate overachiever – not big, not too skilled or clever, but relentless. That seems to be a theme of the new ETU.
So with one epilogue episode left to go, we finally have our Giant Killing. The on-field action was terrific, but for me the rea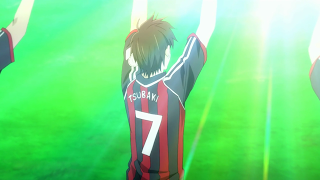 l battle of the giants was Tatsumi vs. Dulfer. Those two were immensely entertaining, and in Dulfer I really feel Tatsumi has met his great rival. He was victimized by his own arrogance here, but Dulfer won't be caught out next time – and the onus will be on Tatsumi to come up with yet another strategy to counteract Dulfer's superior talent. Meanwhile, the lady reporter seems to have concluded – and I concur – that Tsubaki is the key talent around which ETU will build their new legacy. He's the kind of player that's impossible to prepare for. He's so fast and so tireless that he's liable to disrupt things anywhere on the field, at any time. In soccer keeping your "shape" is vital to the defense, and Tsubaki is a one-man wrecking crew. He's doing it all on energy and instinct right now, but he's only 20 – as he gains confidence and learns the game, he's going to be a beast. Tsubaki vs. Kubota could end up being the great on-field rivalry in Japanese soccer.
I don't suppose we're likely to see a second season of GK, which is really too bad – it's a terrific show and there's 15 volumes of manga to adapt.