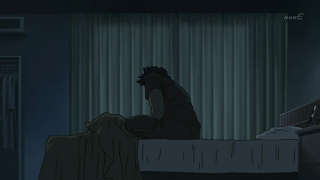 For all his considerable talent, nothing ever seems to come easy to Goro. Now, as his team is on the verge of a division title, we learn that the foreshadowing of episode 149 was the real deal. Bull-headed as he is, Goro was at least smart enough to see a Doctor – one Emily Ferguson – but only because he could keep it a secret from his team. Dr. Ferguson diagnoses him with "Thoracic Tunnel Syndrome" – apparently a narrowing of the artery in his shoulder. But it's at this point that Goro surrenders his intelligence points and bolts the doctor's office, only to wake up in severe pain after his first (successful) appearance as a closer. Emily reluctantly agrees to let him pitch the last three games, but it's obvious that Goro is taking a big risk with his arm.
This is a maddening part of Goro's character, but it makes him who he is. He's already surrendered one shoulder by pitching hurt to win a Little League game, now he's apparently willing to risk his only good one to try and win a title for the Hornets. So what happens if they do win the last game – does he have to stick around for the playoffs as well? The World Series? You have to admire Go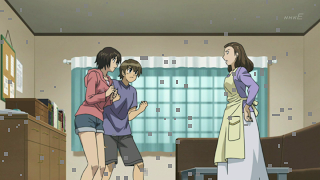 ro's guts and commitment to winning, but as a 20 year-old he's crazy to risk his career.
Episode concludes with another welcome – if brief – visit from the Shimizu twins, this time complete with parents. They want to skip school to watch Goro's last game but Mom doesn't want to let her. Fortunately Dad steps in and overrules. Now first of all, why does Shimizu need her Mother's permission – she's in college! And when did Taiga get taller than Kaoru?