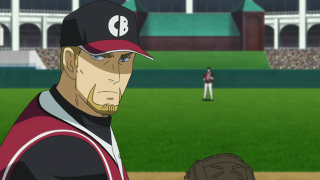 We finally got to see a long-teased watershed moment in Major – Gibson vs. Gibson. While GAR Joe Sr. was toiling in the minors trying to work his way up to the Chicago Bisons, his son was scuffling. Now, Junior is white-hot and Senior is back – and strikes out Sonny in a crucial situation to save a lead. Of course, the notion that Gibson – at 43 – could throw 100 MPH after all the wear and tear on his arm is more preposterous than 17 year-old, 150-pound Kitamura Kou doing it – but the "baseball Gods" were on his side!
Back to Goro, things are as I feared – Goro is being drafted to be the closer as Watts has finally admitted his hip is bothering him. I think it's rather silly that a major-league team would pull it's best starting pitcher to be a full-time closer in the middle of a pennant race, but this is anime, I guess. It's also a point of fact that every time Goro blew on his fingers he would have been charged a balk, unless the umpires had ruled it OK for that day due to cold weather.
Ah, the blowing on the hands. To make the move to closer worse, Goro is hurt – numbness and shooting pain in his hand. Maybe an elbow problem, or a nerve issue? In any case, following Watts' lead he's not going to tell anybody. We all know Goro is only too willing to sacrifice his body for his team, but I'm worried – this is the only arm he has left. The Hornets are within a game and I can't see Goro giving up the ball, but it looks like the sexy trainer/manager is coming back next week – perhaps she'll save the day. In the meantime I hope we hear more from Joe Gibson soon – he's a great character. Perhaps a Hornets-Bisons duel in the playoffs?