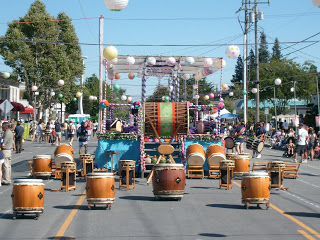 One of the great things about living in the Bay Area is that one can get a little Japanese culture fix without jumping on a plane. I live smack dab between the only two recognized Japantowns in the US – San Francisco and San Jose. Periodically we have matsuri – the biggest and my favorite being the Cherry Blossom Festival in the spring. Nothing that can compare with a big Japanese festival like Asakusa, Tokyo's Sanja Matsuri (lots of pics and vids on my Picasa page), but another outstanding festival is San Jose's Obon.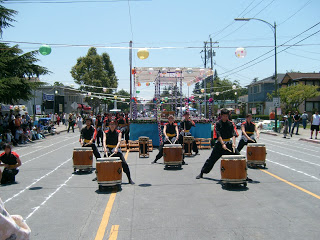 The Bon festivals are a major part of Japanese life. They take place all over Japan during the summer, often prompting Japanese to return to their childhood homes to visit relatives here and departed. In simple terms, I think of it as an excuse to express gratitude to those who made it possible for us to live today. Obon Odori – dances – are a major part of these festivals, often quite elaborate and tourist attractions in their own right.
In San Jose, they dance, too – as well as set up food booths, games, and entertainments in their humble Nihonmachi. The local Buddhist temple – the main organizer – throws open their doors and offers "Buddhism 101" lectures. And then there's taiko – lots of taiko, with several groups from around California participating.
The highlight of the festival are the performances by San Jose Taiko Dojo. Founded in 1972, this is the second-oldest and probably second most prestigious taiko organization in America. First, of course, is Seichi Tanaka's San Francisco Taiko Dojo. Tanaka practically invented taiko in the U.S.A., but San Jose Taiko wasn't too far behind. While SFTD focuses on power and virtuosity, SJTD is more about precision, with a healthy dollop of wit.
I love taiko – I participate a bit, having taken some classes and worked with a local group headed by an alumnus of SFTD. But my meager efforts are nothing whatsoever to real taiko drummers and what they do. Taiko is an essential part of Japanese matsuri of all kinds, across the nation. There's nothing like it – the combination of sound and movement that makes taiko as much a martial art as a musical form. And SJTD is a wonderful practitioner of and ambassador for the art – accessible, open and generous in their style. They're a beloved part of the community in San Jose's Japantown, and their performances are a display of mutual affection.
If you're in the Bay Area, try and check out one of our Nihonmachi – especially if there's a festival that weekend. It's not quite the same as being in Japan, but an experience quite different than any other you'll have in America.