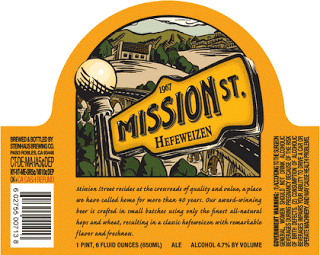 We return to the shelves of Trader Joe's, this time for LiA's first beer review – Mission St. Hefeweizen. It retails for a paltry $1.99 for a 22 oz. bottle.
Like many of TJ's "house beers" such as their excellent Holiday Beer (Unibroue) this is contract brewed – in this case by Central California's well-regarded Firestone Walker Brewery. My expectations weren't especially high. I'd recently tried the Mission St. Brown Ale and found is drab and uninteresting, disappointing especially in that brown ales are one of my go-to styles.
But this one surprised me. Hefwweizens are generally hard to hate, but often lack character. The Mission put me in mind of Hoegaarden or it's spiritual forefather, Celis White – a nice kick of pepper and citrus backed up the clean taste of the wheat. Like any good Hefe it's light to medium in body, straw-colored with a light but persistent head. Before the spice hits, you get a nice nose of yeast and straw. At 4.7% ABV this is an easy sipping beer, but like a dry Riesling or Gewurz the spice and citrus character is a perfect match for a wide range of food pairings. At under $2 per Imperial pint this is a nice bottle to keep in the regular rotation, especially during the summer.