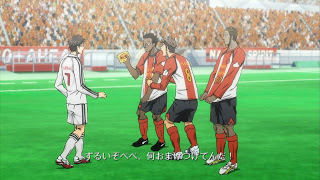 Well, much as I predicted ETU added another goal as Itagaki and the rest of Nagoya grew increasingly desperate to try and score the equalizer. It's fascinating to watch this series unfold at the same time as the world cup – the experience of watching a real game and a fictional one so very different, but the same sense of excitement pervades both.
This was a generally upbeat ep, all-around. ETU got their first win. Fuwa was shown up by the team he snubbed and left for dead. Gino got his first goal of the season. But really, this game was about Tsubaki. His raw skills on the pitch have been made clear from the beginning, but he's really grown as a player – and as a character, too. By trusting his instincts he's unleashed the potential that he always held – you can't succeed in soccer just by running fast. He's enjoying the game now, and learning how to use his motor to cause problems for the opponent. His speed makes him a true two-way player, a valuable asset in the midfield – fast enough to bail out his defense as well as lead a devastating counterattack. For a team that's generally undermanned, counterattack is going to be the key to scoring goals.
There are so many little touches I love to this show. The Brazilians are wonderful – so very un-Japanese in their outlook and demeanor. They found themselves a soul-mate in Tsubaki, who earned their respect not just with his ability but with his love for the game. Brazilians, always, love football for the joy of it. Fuwa, while clearly a villain, is not presented as an idiot – he's a good coach who was taken by surprise by Tatsumi's gambit in the second half. And the Edomae are a welcome addition – their old-school fan antics charmingly anachronistic. Will they eventually merge with the new fans, or form a rival group?
In addition to some pacing issues (which have largely been limited to the Nagoya match) my one major beef with GK is the extended recaps. I know DEEN doesn't have an enormous budget for this series but really, an entire 3 minute pre-OP repeat sequence – followed by even more after the OP? It's a bit much, to be honest. Otherwise, though, I'm really enjoying this series – the matches are exciting, the characters interestingly flawed but likable, and the premise involving. This is the sort of series you'd like to stick with for a long time – 26 episodes isn't going to be enough to really do the season justice at the pace things are going.